Today's front page of the Austin American Statesman included this little quip over the courts overturning our little Gays Just Ain't Right laws.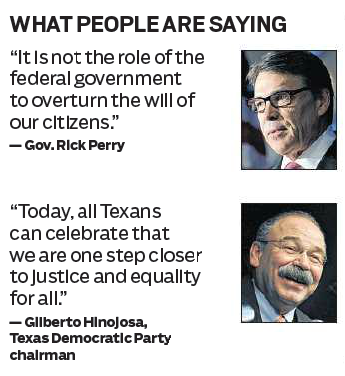 Read Rick Perry's out loud.  Then bang your head against your desk.
The thing about Rick Perry is that you can pull a slow one on him.   You do not have the waste the energy to pull a fast one.
Errrr, Rick?  Didn't we fight a war over this?  Didn't your side lose?
Errrr, Rick?  Polls show that 61% of Americans and 52% of Texans support civil unions or marriage for same gendered couples.  There's a real big difference between your will and the will of "our citizens."
Do you wanna know the smartest thing I ever did?  I seconded the nomination of Chairman Gilberto Hinojosa to be Democratic Party Chairman.  He is not a namby-pamby Democrat.  You can email him right here ghinojosa@txdemocrats.org to let him know how grateful you are to have a Democratic Party Chairman in Texas who loves being a Democrat.
You can email Rick Perry at Rick@dumbasdogdump.com